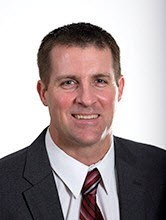 Jeff Berkhof has been a mainstay of the Falcon program both as a player, assistant coach and now in his 11th season as the Head Coach of the Falcons.  Berkhof follows only his predecessor, Rick Bowen, in coaching victories at UW-River Falls.
Berkhof has brought the Falcons to the forefront of Division III college basketball and the WIAC conference.  During the 2015-16 season, the Falcons made their third appearance in the WIAC Conference tournament championship game in the past six seasons.   The Falcons finished with a 17-11 record and a WIAC regular season 2nd place finish. 
In 2014-15, the Falcons finished the conference season winning four out of their last five games to complete a 10-6 conference record and a #3 seed in the WIAC conference tournament.   Berkhof was selected the WIAC Coach of the Year, his second COY honor.
In 2011-12 the Falcons finished 20-8 overall and 12-4 in WIAC play.   In the conference tournament semi-finals the Falcons opened with a 76-51 win over Stevens Point, and then claimed their first WIAC tournament championship with a 64-58 victory at Whitewater earning the automatic bid to the NCAA tournament.
In the 2010-11 season the Falcons put together a 15-game winning streak, the longest is program history and finished with a 20-8 overall and 12-4 WIAC play.  Following a second place finish in the WIAC tournament, the Falcons earned a berth into the NCAA tournament for the first time in program history. Berkhof was selected WIAC Coach of Year following the 2010-11 season.
Berkhof spent 12 years as an assistant coach with the Falcons and helped the Falcons claim the 2004 WIAC regular season conference championship.
During his years as assistant basketball coach, Berkhof was also the Head Women's Golf coach at UWRF from 2002-06 and was selected WIAC Coach of Year following the 2004 season.
The Hills, Minn. native received his Masters of Education degree in sport management at the University of Minnesota in 2005. He completed his Bachelor of Science degree at UW-River Falls with a major in physical education and a minor in athletic coaching in 1994. 
Berkhof played two seasons for the Falcons from 1992-94 and was selected all-conference following the 1993-94 season.
Jeff and his wife, Jill, reside in Hudson, WI.  Jill is a UW-River Falls alumna and third grade teacher in Stillwater, Minn. They have one son, Benjamin, who is 12 years old.